Hot Water Dispenser Accessories
Item # 826505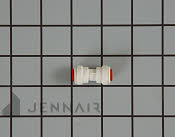 Plastic water line connector, 1/4" to 1/4" quick connect
OEM Part - Manufacturer #WP2198677
Item # 584723
Non self-piercing water valve with compression fitting. Attaches to copper water lines up to 1 inch. 1/4 inch outlet. This is an excellent replacement valve for the easily clogged self-piercing type of valve commonly installed.
OEM Part - Manufacturer #WP4378392
$28.99
Order by 3:00 PM ET and choose FedEx 2Day or FedEx Overnight shipping, this part ships TODAY!
Add to Cart